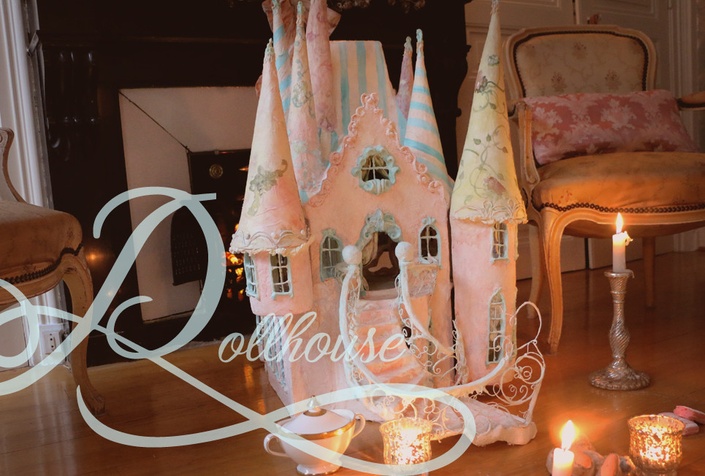 Making a Paper Dollhouse
THE DOLLHOUSE WORKSHOP IS NOW CLOSED TILL SPRING 2024
THE DOLLHOUSE WORKSHOP IS NOW CLOSED

TILL SPRING 2024

Once enrolled you have forever access to the content

When you enroll you automatically have unlimited access to the full video content

+19hrs of video content

+complimentary printable documents

+5 exclusive Live video group calls in april , may and june 2023

(to help you start and complete your house)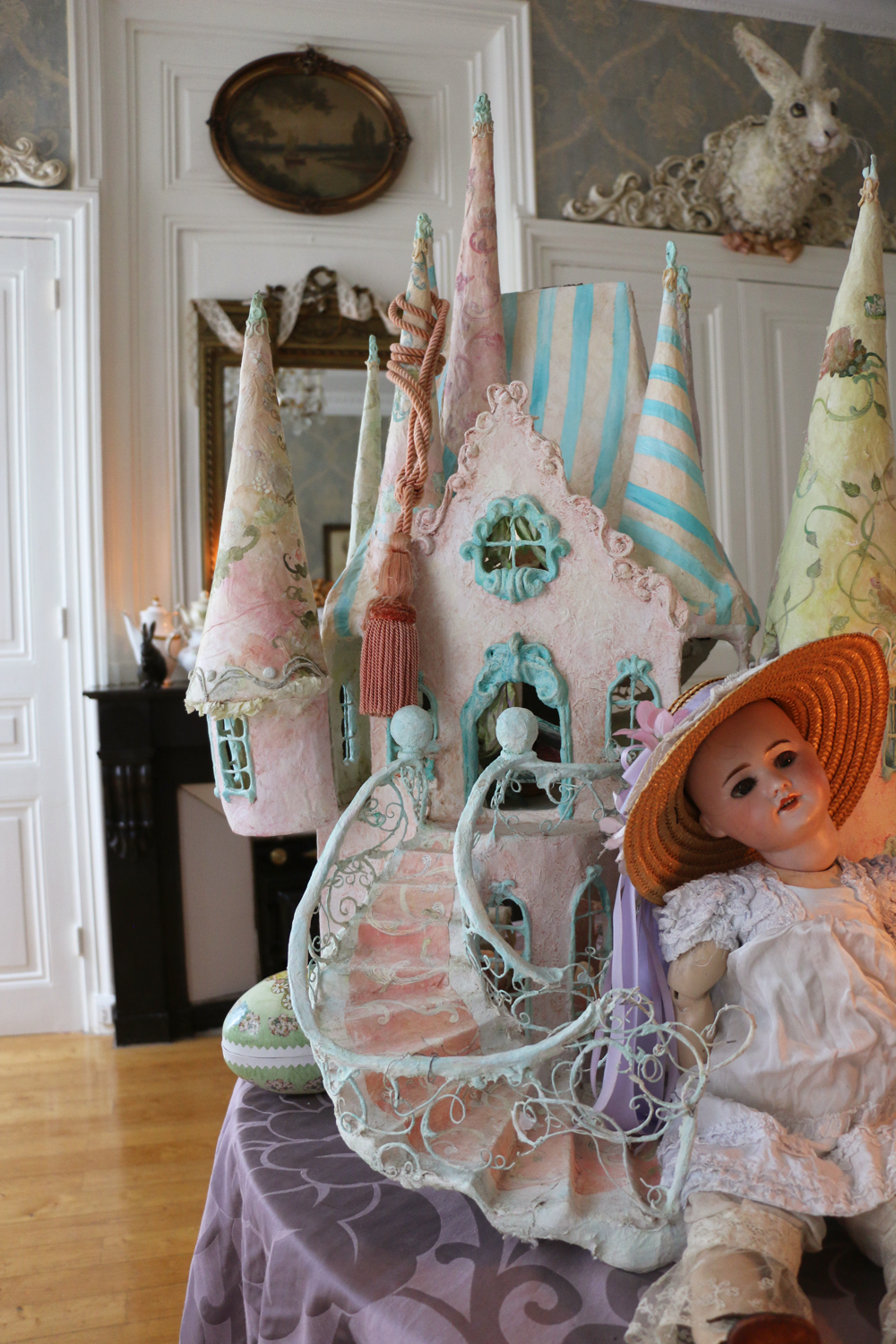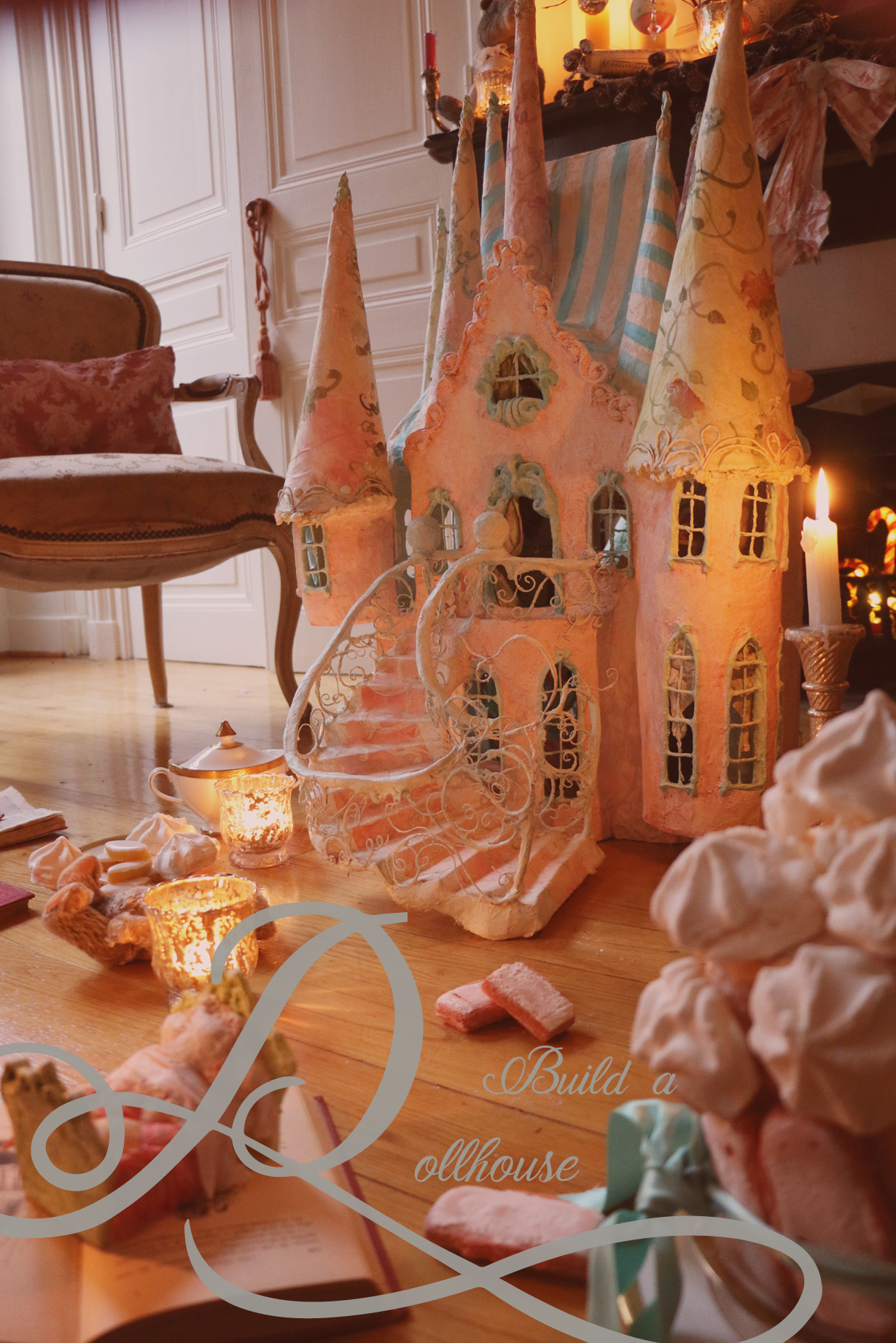 The Dollhouse Workshop as all my workshops including this one are especially made for beginners and amateurs and for a personal use ONLY.
The Dollhouse of your Dreams
If you have always wanted a fairy tale Dollhouse, with a victorian look or a typical french roof, with sleeping beauty towers, magnificent staircases with a lot of rooms, several floors, and all the matching furniture, this workshop might be for you .
Make a personalized Dollhouse entirely in paper and papier Maché. Choose the numbers of floors, towers. Pick up the style you prefer and start making your unique dollhouse.

Skip all the technical problems, and difficulties following the detailed step by step videos.

Learn how to make elegant crazy curved staircases, and beautiful castle towers .different sort of roofs and all the furniture.

This workshop is Inspired by all the different dollhouses I created these past 6 years. I will teach you all the techniques I know to make the dollhouse you always dreamed of, with very simple and basic supplies.
Have a look at the Castles and Dollhouses completed by enrolled Apprentice Magicians in 2017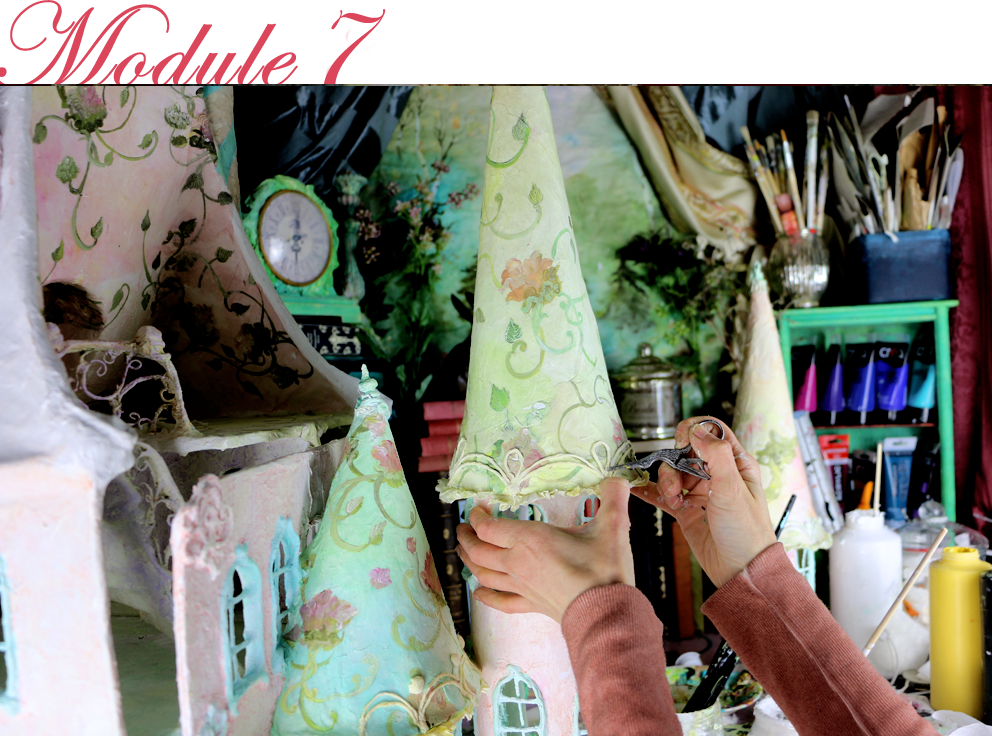 You will learn to draw and paint wallpapers, floors and tiles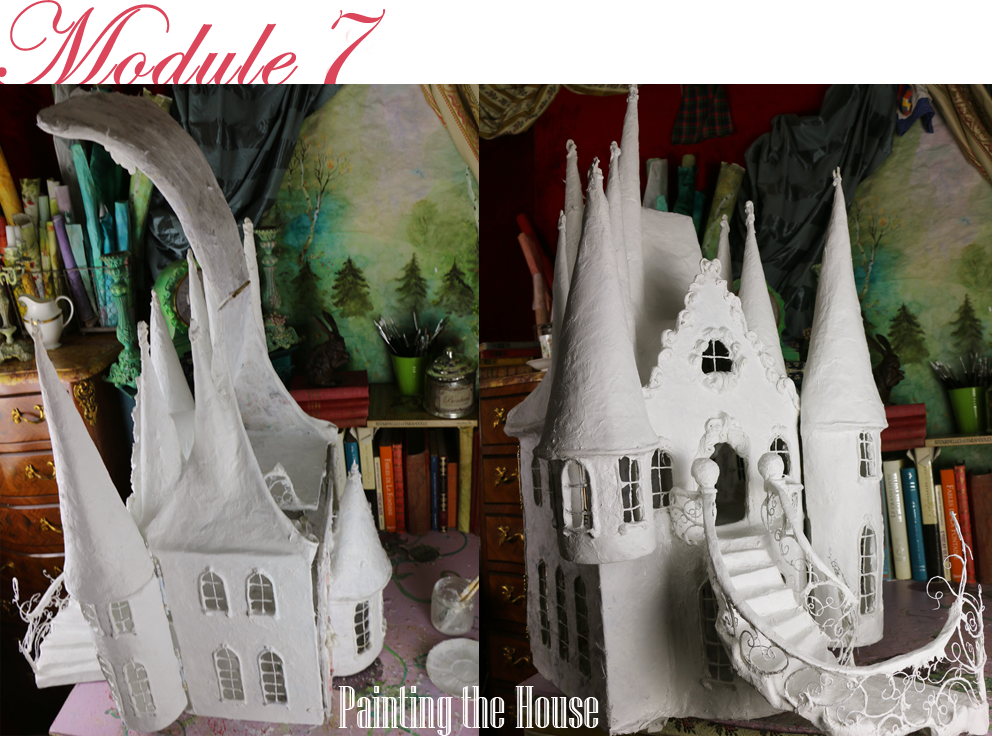 An exciting experience
Making a dollhouse can look very overwhelming and pretty complicated, a never ending journey. You can easily get lost before even starting. There are so much to do and so many challenges. You don't want to spend your days and nights figuring out how to build the storeys, attach your towers, how to adjust square straight walls.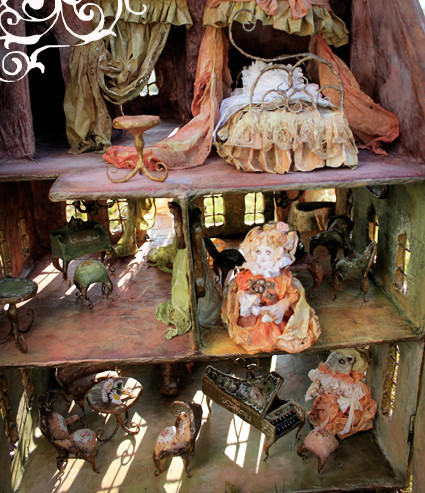 Nothing is worse than trying to improvise a circular staircase which is not circular at all, which doesn't stand well and the steps are not even flat. I can tell you from experience improvisation with dollhouses doesn't work well!
You don't have to guess everything on your own. Building a dollhouse can be effortless and joyful.

And a dollhouse made out of a shoe box, or a cardboard box without towers without staicases is not really a fairy tale castle ….there are other ways to accomplish a beautiful house.
Making a dollhouse is so much fun. It can be a wonderful experience and this workshop will provide you with the good roadmap and the proper techniques and tools you need till the end of the journey so you won't get lost.
"I am an Australian visual artist, working mostly in textiles and paper

. I am also a painter. So I came to this course very confident in my skills. Even so, I have learnt such a lot of techniques that were new to me and challenged me. I thoroughly enjoyed myself!




Laetitia's teaching style is very friendly and generous, and she presents with meticulous detail. The content was far more than I imagined!




If you are a beginner, have no worries. Laetitia will guide you carefully. If you are an artist, just go for it! There is plenty of room and encouragement for self-expression. If you are a lover of fantasy, this workshop is for you!




Don't hesitate. You have the chance to immerse yourself in a fairytale and play with imagination again! And that's what I liked the most: the opportunity to realize my childhood fantasies and beloved stories."
Michelle Jae Andrews, Australia, Student of the Fairy tale carriage and the Dollhouse workshop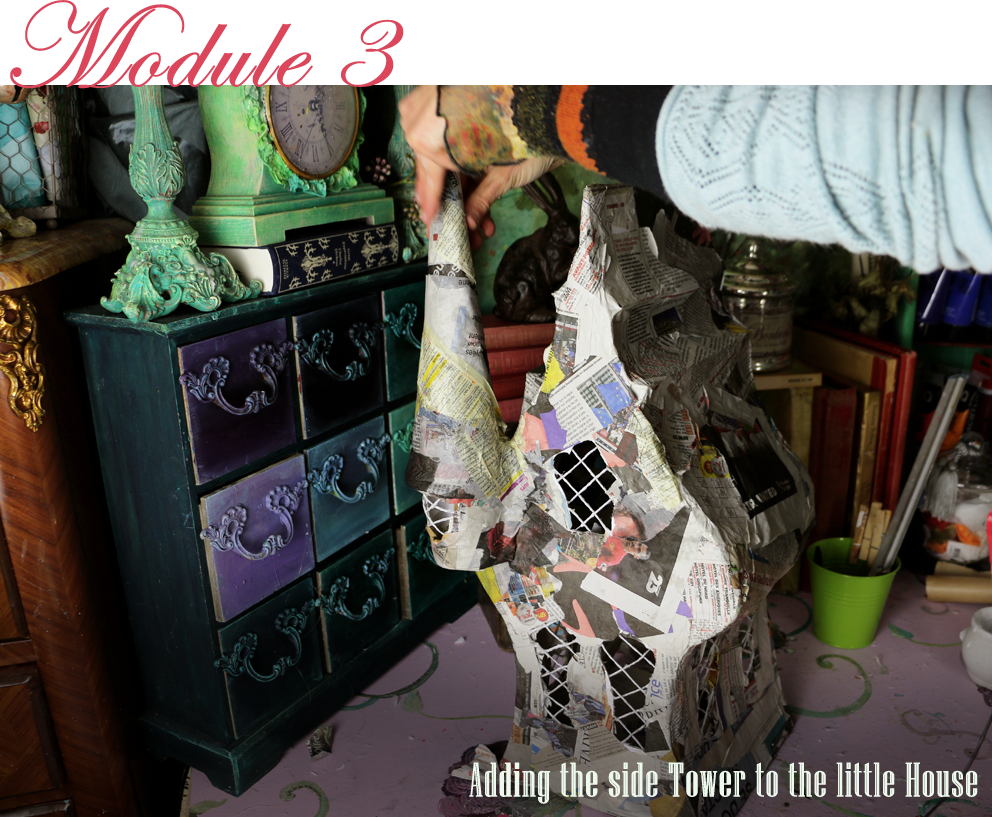 Here's what you will learn in the dollhouse Workshop

You will be guided from step 0 ( you have no idea how to start a dollhouse ) to a totally finished, in the flesh ready to be admired unique fairy tale dollhouse.
The Introduction: presentation of the different dollhouses possibilities, supplies and explanations of the techniques used.
The furniture include: ceiling mouldings, wall and roof chandeliers, fireplaces, stove, kitchen dishes and pots , different sort of chairs and sofas and tables , different sort of beds, canopy beds, harpshichord, miniature paintings, miniature huntrophies, clocks, bathtube, little books....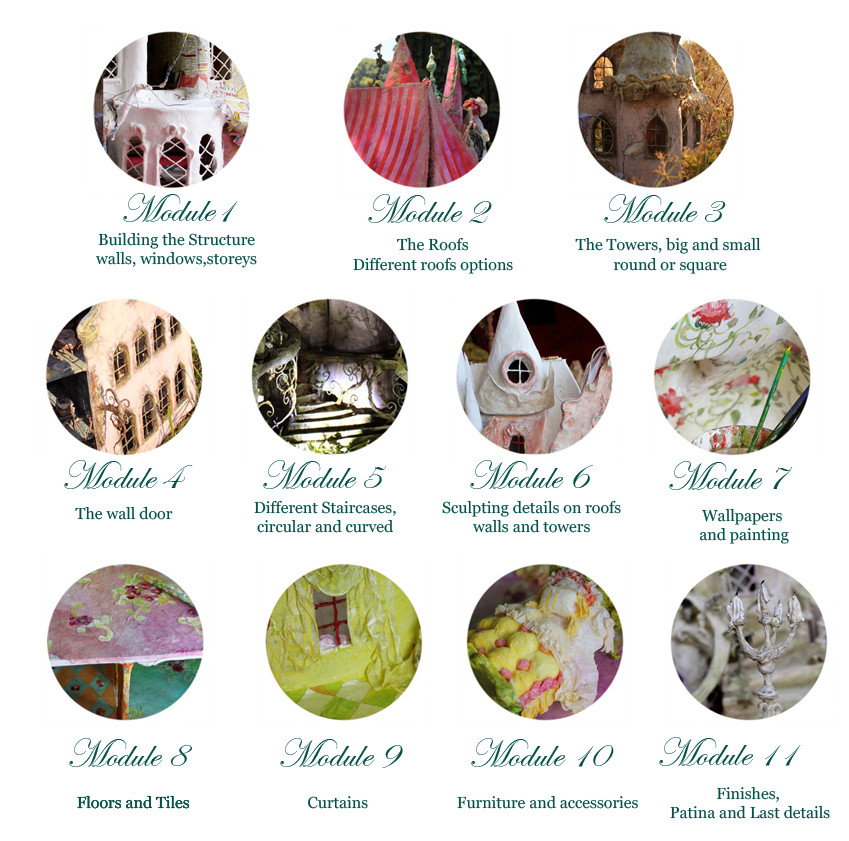 You will learn how to make a spectacular Castle staircase


This course is closed for enrollment.
" I recommend these workshops!!! I love Laetitia's work and I've enjoyed making the rabbit and his carriage because it's a beautiful
combination of sculpture and painting with many, many details.

I'm also enrolled in Christmas course and I'm looking forward to starting
the Dollhouse (will be the maximum!). It is a fascinating and very fun
process if you like to do creative things.
If you haven't done anything

like it before,

You should not worry because Laetitia explains everything in detail in her videos. You just have to put a lot of love in your work.
If you like the Laetitia's magic world, you will love her workshops."

Sonia, Spain , Student of the Fairy tale carriage, the Christmas Workshop and the Dollhouse workshop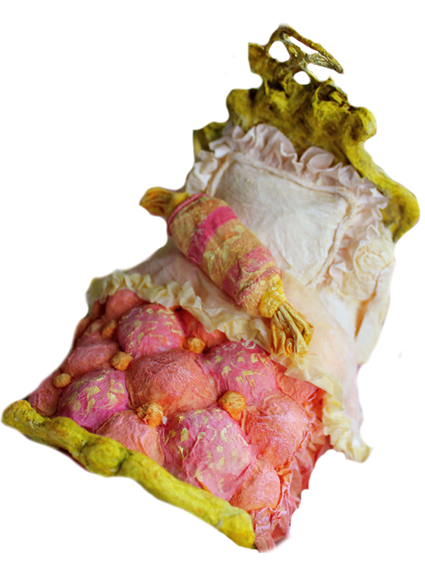 Dollhouse for beginners
To do a dollhouse you don't need to be an architect, a miniaturist, an artist who knows how to use paper and papier mâché.
You can follow this workshop even if you have never sculpted with paper before.

You will be guided with detailed step by step videos easy to follow to make your dream fairy tale dollhouse.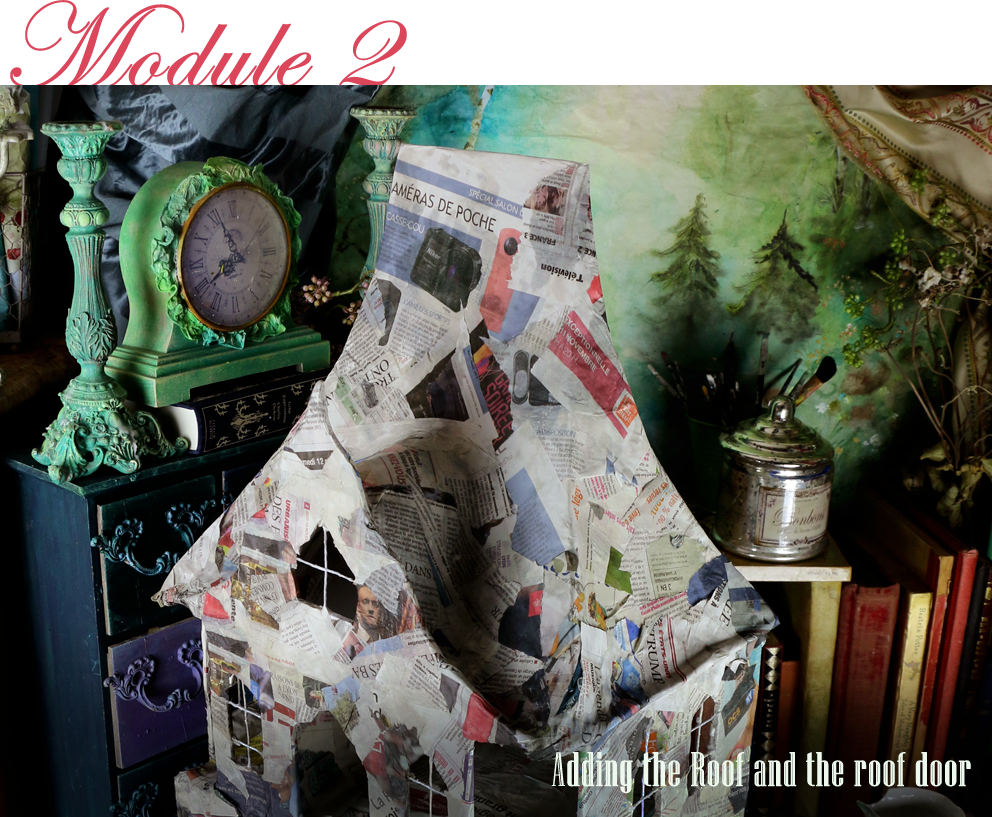 Make your Dream a Reality
There is something really satisfying when you make a dollhouse. It is a little world in miniature, an old tradition which started in the 17th century, not a random piece of art.

Every detail, accessories, piece of furniture have to be well thought and made with care and patience.

Once completed it is a project you will be proud of whether it is for yourself, or some grand children .
It will give you a happy and lasting feeling of fulfillment.

It 's a personnal dream, you always had since you were a child. You always wanted your own victorian or fairy tale dollhouse with a beautiful circular staircase on the front, several floors, cute bedroom with elegant canopy beds. But perhaps you didn't know how to start, what supplies to use, thought it must very complicated and so time consuming .

It doesn't have to be a dream anymore.

You can make your own dollhouse.

And I will help you.
You will love this Workshop if

You've already made a dollhouse in the past
and felt inspired by my dollhouses and castles,
but you wish you had known more techniques and could make it more sophisticated.


You've Never made a dollhouse

but you always wanted to have one.
But couldn't find the fairy tale dollhouse of your dreams.

You Felt Stuck
You tried to make one, but were overwhelmed by the task ahead
and had not the keys to all the technical challenges.
And didn't know actually how to do it.
And your victorian, and fairy tales dreams have long been since forgotten.

You're Ready to start the journey
and will start your own dollhouse today and meet passionate
and supportive Apprentices Magicians
who are starting their houses at the same time just like you.

This workshop will help you with the exact step-by-step techniques
to complete a spectacular house you wouldn't have dreamed of.

This course is closed for enrollment.
Personnalized dollhouse
Dollhouses have to be unique. And yours will be like no others. French, victorian, haunted , magic or inspired by Fairy tales I will teach you how to make a balcony, bow windows, circular or straight staircase, towers, different sort of roofs, different styles and decors and you will decide what you prefer, and where you want to add your staircases or towers…
I show and teach you what's possible and you choose.
This course is closed for enrollment. Satisfaction 100% guaranteed
This course is designed to help and inspire you in every possible way. I have no doubt if you follow and actually apply all the lessons taught in this course you will make the dollhouse of your Dream or even better !

I want you to be excited about this workshop to experience the full wealth of the techniques and content I'm sharing with you.

That's why I'm offering a complete money-back guarantee. If you're not satisfied with this course, just contact me within 30 days of purchase, and your money will be refund.

( That' s how confident I am that you'll love doing this dollhouse as much as I do!)
Frequently Asked Questions
How does the course work ?
When you purchase a course you'll create an account that will grant you immediate access to all the videos and content in within. Then you can decide to watch all the video lessons, organized in modules at your own pace.
I am a complete beginner, I have never made anything in paper is this course for me ? Can I make a dollhouse ?
Absolutly ! You are in the right place ! The dollhouse workshop is made for beginners as well as more advanced Apprentice Magicians. Rather than to fix errors you already made, you will learn how to avoid them it will give all the practical help you need to complete your dollhouse .
Will my dollhouse be totally like yours ? Can I personnalize it ?
You will have the possibility to follow the one I'm doing in the workshop exactly, but I will also teach you how to do different sort of roofs, different sort of staircases, different sort of towers, to add your partition walls where you want, at the end your house will be as unique as you wish. !
When does the course start and finish?
The course starts now and never ends! The course is always available. You have unlimited time access. It is a completely self-paced online course - you decide when you start and when you finish. You can re-watch all the videos as much as you like at your own pace.

AT YOUR OWN PACE

You can take all the time you need to complete your house, do it in 1month or 3 months, or start next season. If you follow all the videos you might be finished sooner than you think!!


SUPPORT

Don't know how something works? Forgot how to login, ?Having trouble accessing the videos?Need help? I'm there ready to help you out so you'll have an easy and happy experience.


ANYWHERE, ANYTIME

On your desktop, mobile or tablet. All the materials of the workshop are accessible online, so you can access them anywhere, anytime .

This course is closed for enrollment.