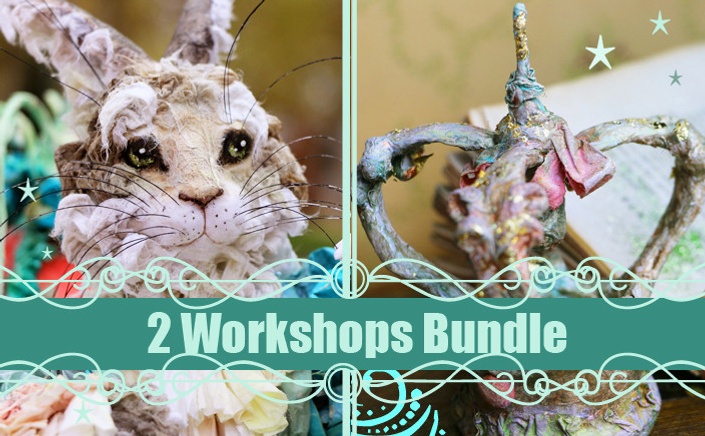 Mr Rabbit on his Carriage Bundle
Learn the Magic of paper with "Mr Rabbit on his carriage"+ "Accessories for a princess" workshop
Watch Promo
Learn how to sculpt with paper a Fairy tale Baroque Carriage driven by a dashing Rabbit coming from Wonderland with this step by step workshop
You are going to learn the techniques to make an 18th century Carriage with paper and papier maché. You will also create and sculpt in this workshop a mad hare or a late Rabbit wearing a beautiful costume .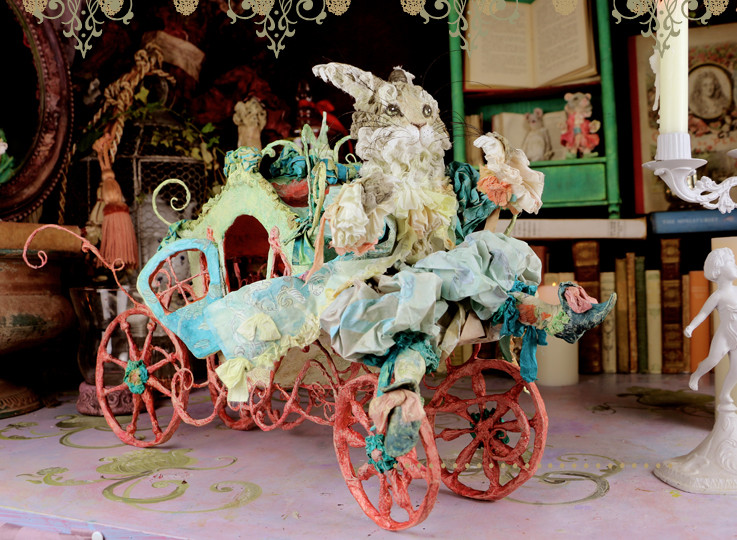 Courses Included with Purchase/ Ateliers Inclus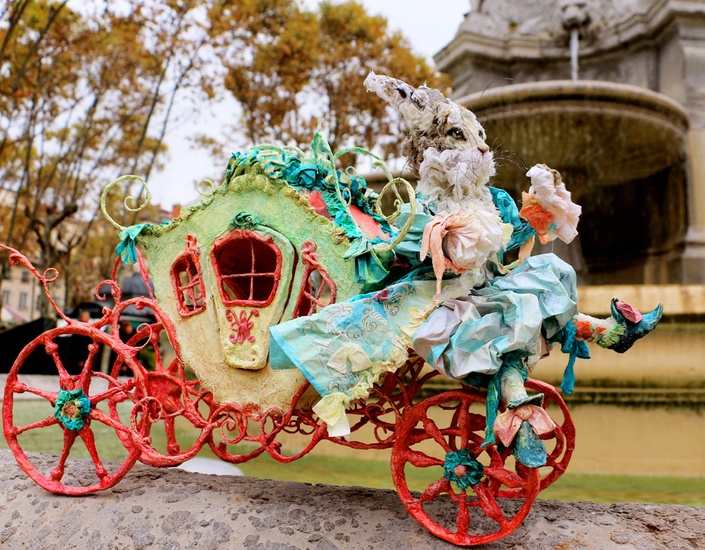 Mr Rabbit on his Carriage
Learn how to make a spectacular paper fairy tale Carriage driven by an elegant Rabbit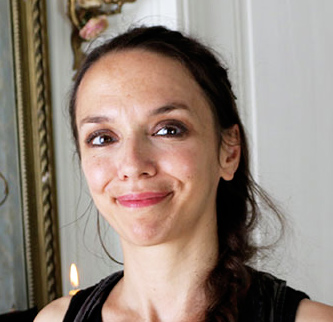 $160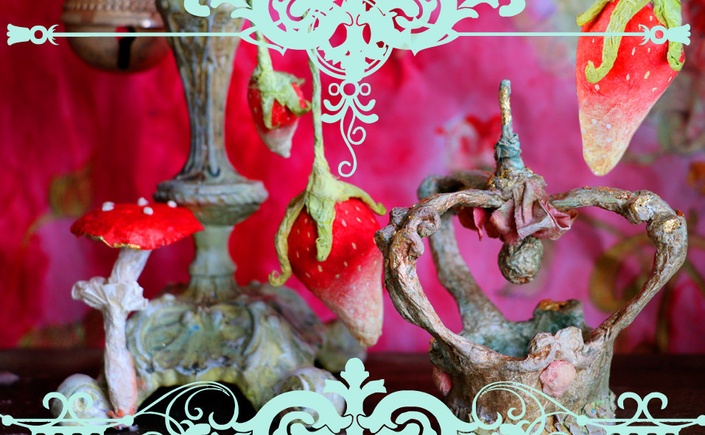 Accessories for a Princess
Learn how to create a Chandelier, a Pretty Crown, Magical Mushrooms and other decors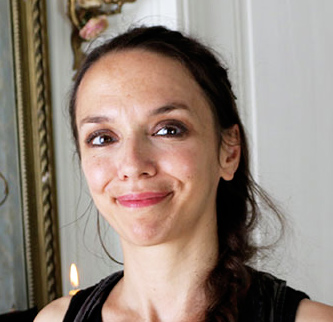 $80
Original Price: $240
Even if you don't have a kingdom you can make a fairy tale Carriage for the little Princess you secretly are .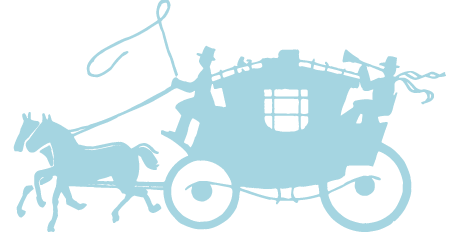 "I had some hesitation, wondering what the workshop would be like ?

Would the instruction be clear enough? Would I have questions with no one there to answer them?

All those concerns were unfounded, I found that all the instruction I needed was available, any questions I had were answered promptly, and I loved the inspiration of the other participants.
I don't know if I can say what I liked the most, I liked so many things. I liked the inspiration, I liked the details and the techniques. I liked that the instructor made mistakes and then showed how to fix them. That was very handy. It really helps when you see what to do in case things need to be corrected and often times you only get the perfect technique in an online workshop so I thought that was a big advantage.
I would definitely recommend any of the workshops. I learned so much and was so inspired! I'm so glad I took it and I'm planning to take as many more as I can in the future."

Sally Redfield , USA, Student of the Shoe House Bundle Workshop

Master the magic of paper
In this workshop You will learn after few hours many techniques :


- To make a baroque personnalized carriage with big wheels and a comfortable cosy chairs made for long trips to Wonderland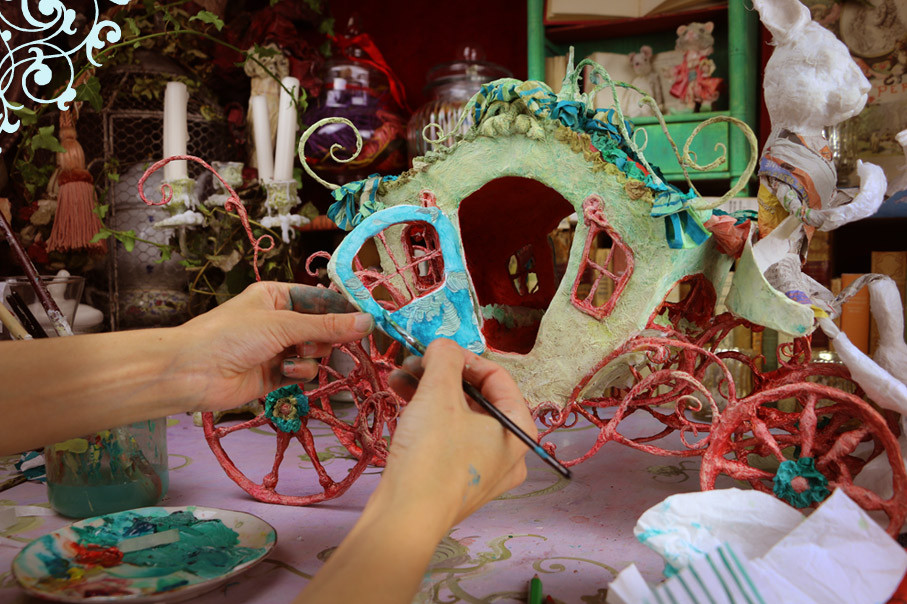 You don't have go to a ball, to have

your very own fairytale carriage.

Learn how to sculpt with Mulbery paper
In this workshop You will learn after few hours many techniques :

- To sculpt a hare, body and head imitating fur and whiskers with paper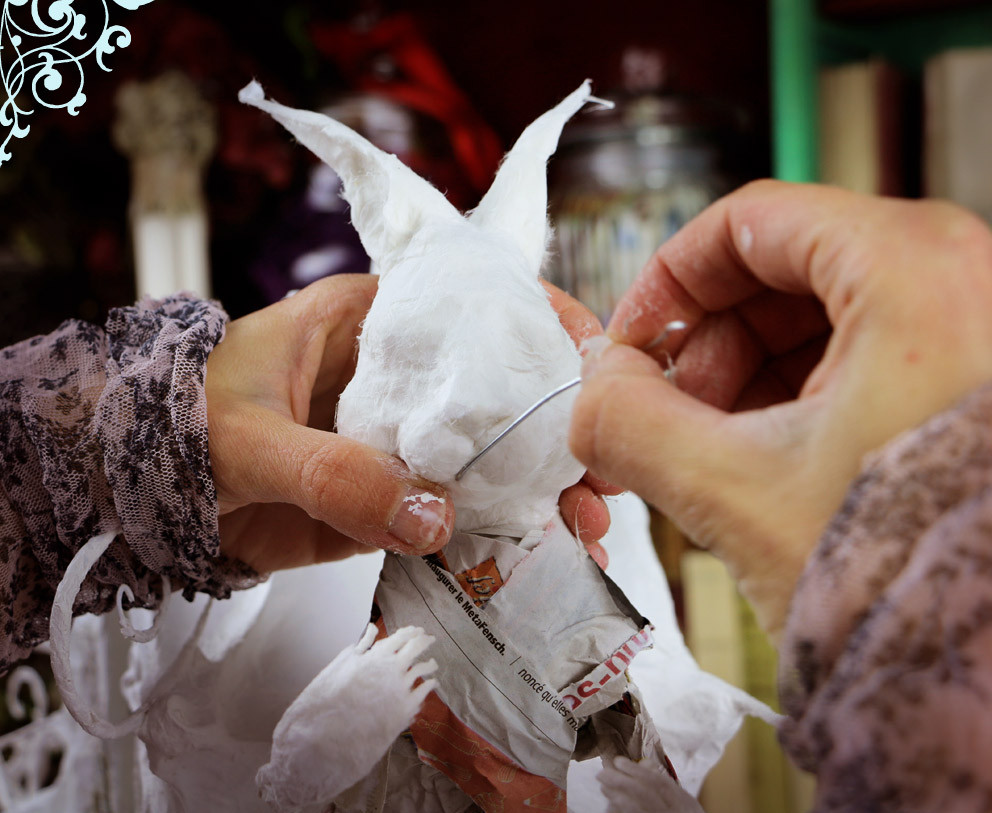 You will Learn how to turn paper into fur

and make a fluffy Hare as the driver

of your carriage

"I had some experience with papier mache and using paper clay for hand sculpting but not using her techniques and c ertainly had no idea as to the sophistication of the methods that she uses and the amazing results that are possible with such basic materials.

I could hardly wait to see what her secrets might be! And, although I have not produced finished work from the classes as yet I have looked at the varieties of techniques and am still excited about it all.

It helped me in many ways. Inspiration for my own designs, satisfaction in seeing things work out in less time than would have been required if I was attempting to figure things out for myself. The pleasure of seeing what other people are doing. And, just the absolute amazement at how gorgeous her work is.

I liked the works themselves and also discovering that even she has moments when things might not go quite as she has planned! I love her presentation and am aware that she must have invested a huge amount of time and inspirational effort in producing these courses. And mulberry paper! What an absolutely fantastic thing it is! I love it.

I would recommend these workshops Even for someone who might have no interest in doing anything that might be considered art I think that just the processes involved and the satisfaction of seeing what can be made would be absolutely wonderful.

Juanita Wellings, Australia, Student of the Fairy tale carriage, the Shoe House and the princess cat Bundle Workshops

Learn how to Build
In this workshop You will learn after few hours many techniques :

- To build an entire carriage with paper foamboard, cardboard and iron wire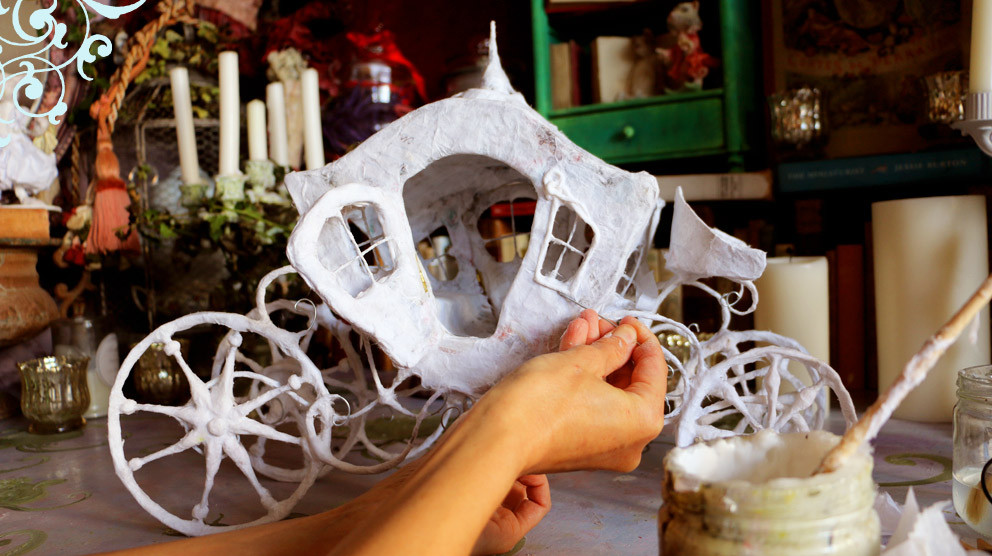 Learn how to paint a Hare
In this workshop You will learn after few hours many techniques :

- To paint and make the fur of a hare or rabbit with paper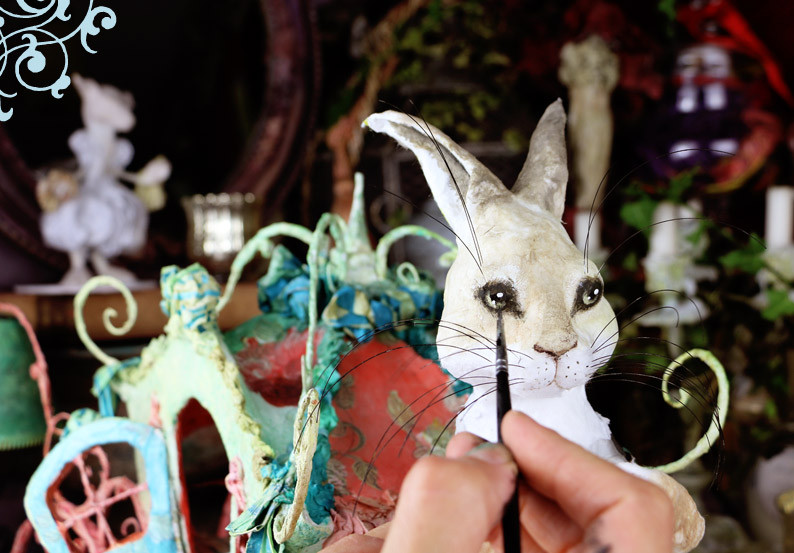 "If a novice such as myself can learn these paper techniques, anyone can. And they are soooooo much fun to do!!!

I was not familiar with any paper techniques or paper sculpting before taking these classes.I had so much fun and learned so much from them. I love working with my hands and I knew the classes would be challenging, but Laetitia is such a wonderful teacher as she explains everything in detail.

She also shows you step by step how to do everything you need to know. I find the faces the hardest to do, as I want them to look exactly like Laetitia's, but I have been really happy with the outcomes.
If you like working with your hands and love to challenge yourself, I would recommend these classes. I have made several animals and a boot house and am really proud of them.I would never hesitate to take these wonderful classes. "

Stephanie Crist , USA, Student of the Fairy tale Carriage princess Cat and the Shoe House Bundle Workshops

Learn how to sculpt and shape all sort of paper decors
In this workshop You will learn after few hours many techniques :

- To create paper tassels, and all sort of decors to embellish your carriage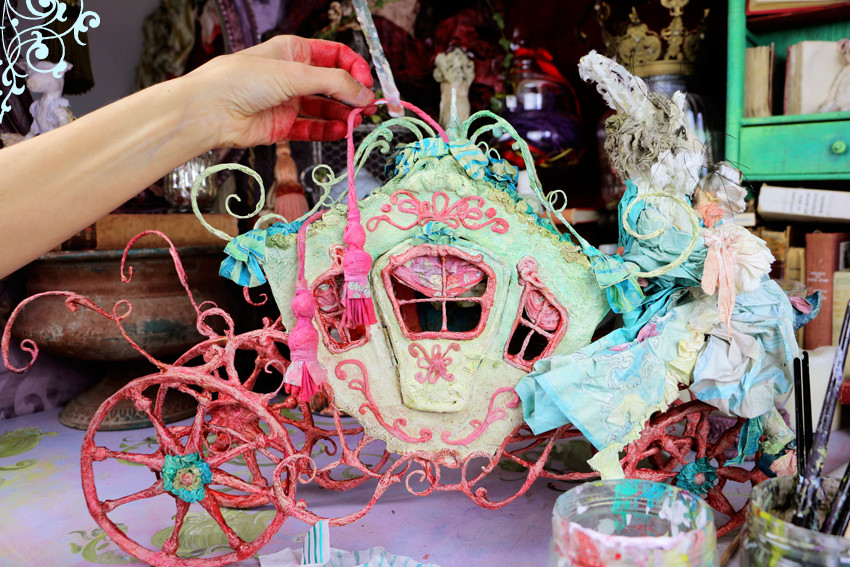 Learn How to paint floral patterns for your carriage and the costume

In this workshop, you will learn after few hours many techniques:

-To draw and paint simple or sophisticated floral decors, we will use for the carriage and the hare's costume.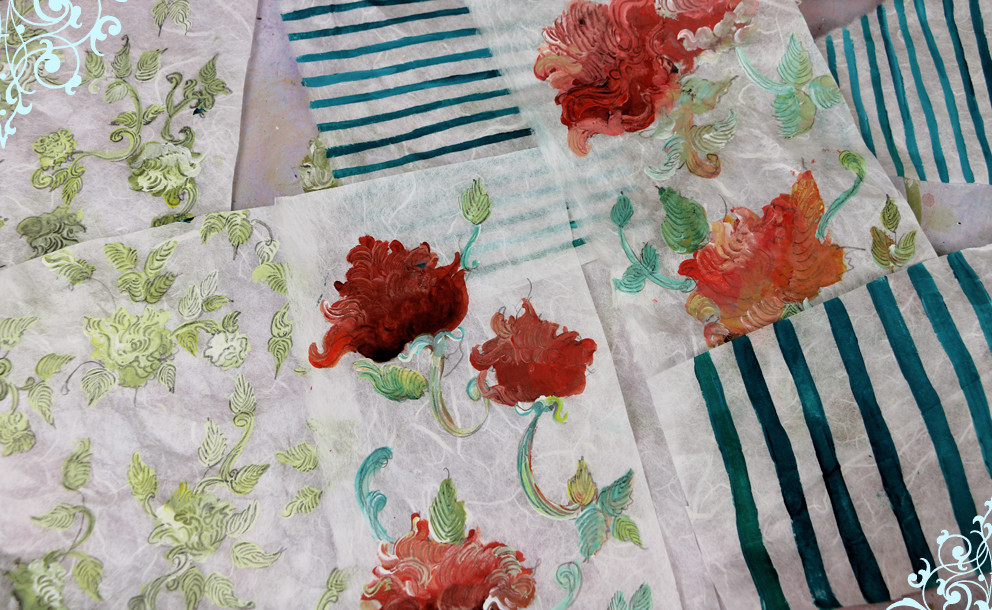 "I loved that the lessons were challenging but with her help very achievable.
If you hesitate to dive into these beautiful lessons in Laetitias workshop for ANY reason..
DO IT ! They are truly magical, and I know magic !!! :) "
Kellie Welch, USA, Student of the fairy tale carriage , the princess Cat and the Shoe House Bundle Workshops
Class Curriculum/Déroulement de l'atelier
Introduction
Available in days
days after you enroll
2.Sculpting the carriage decor and underlay
Available in days
days after you enroll
Turning a Pumpkin into
a magnificent Carriage is easy with the good magic wand.
(and a bit of help )

Even if you have never sculpted before
You can start your carriage Today.
After midnight it will be too late !
Frequently Asked Questions
How does the course work ?
When you purchase a course you'll create an account that will grant you immediate access to all the videos and content in within. Then you can decide to watch all the video lessons, organized in modules at your own pace
When does the course start and finish?
The course starts now and never ends! The course is always available. You have unlimited time access. It is a completely self-paced online course - you decide when you start and when you finish. You can re-watch all the videos as much as you like at your own pace. .
I am a complete beginner, I have never made anything in paper is this course for me ? Can I make a carriage and a rabbit ?
For sure ! The carriage workshop will suit beginners as well as more advanced Apprentice Magicians. Rather than to fix errors you already made, you will learn how to avoid them it will give all the practical help you need to complete a dashing carriage and an elegant rabbit .
"It is amazing how much I have learned . The techniques are far different from what I thought they would be. Laetitia has done the research and "trial and error work" so the student will know the best supplies and techniques to achieve beautiful work. Learning new painting techniques has been a bonus.

I was familiar with paper techniques and sculpting..but I didn't hesitate to sign up for classes. I have followed Laetitia's work for years and was very interested in how she made her wonderful objects and figures.


I like the fact that I can work at my own pace. The videos are relaxing and fun but they also are very detailed. Laetitia doesn't leave out any important steps or details.

I have recommended the classes to friends on Facebook and "real life" friends as well. A beginner can easily achieve great results because the instructions are easy to understand and very complete. There is a Facebook group, Laetitia's blog and YouTube videos as well so there are plenty of additional ways for reference and fun!"



Helen Hoelck, USA, Student of the fairy Tale carriage, the princess Cat and the Shoe House Bundle Workshops Satisfaction 100% guaranteed
Enrolling in this workshop will help you tremendously making a beautiful baroque carriage and rabbit. I have done my absolute best to deliver an effortless course which will guide you to succeed.There is no question if you follow and actually apply all the lessons and techniques I teach you in the course you will make a gorgeous carriage, even if you are a beginner.

I want you to be happy about this course, to experience without worries all the techniques and content I'm sharing with you.

That's why I'm offering a complete money-back guarantee. If you're not satisfied with this course,what i teach you here just contact me within 30 days of purchase, and your money will be refund.

( But I am sure once completed, you will be very proud of your carriage !)
Have any questions about the Fairy Tale Carriage Workshop ? Send me an email, I'm there to help!

AT YOUR OWN PACE

You can take all the time you need to complete your carriage, do it in 1month or 3months,or start next season. If you follow all the videos you might be finished sooner than you think!!


SUPPORT

Don't know how something works? Forgot how to login, ?Having trouble accessing the videos?Need help? I'm there ready to help you out so you'll have an easy and happy experience.


ANYWHERE, ANYTIME

On your desktop, mobile or tablet. All the materials of the workshop are accessible online, so you can access them anywhere, anytime .